Alaska Mapped and the Statewide Digital Mapping Initiative
Imagery and elevation data with a statewide, broad-scale focus
Alaska Geospatial Plans Page. - The Alaska geospatial strategic and business plans.
Get orthomosaic source data. The data being used to construct a new statewide, high-resolution orthomosaic is available now.
Alaska Mapped is a data portal serving imagery and elevation data collected through the Alaska Statewide Digital Mapping Initiative (SDMI) and the UAF Geographic Information Network of Alaska (GINA). Through this public portal, Alaska Mapped provides the most extensive collection available of high-resolution imagery and elevation data for the state of Alaska. Imagery and elevation data are gathered from numerous contributors and distributed through online map viewers and download.
The Alaska Statewide Digital Mapping Initiative's primary goals are to acquire new and better maps for Alaska and to make existing map products more easily available. The SDMI seeks to make ongoing improvements to Alaska maps on a broad, statewide scale. Alaska is the only state in the nation lacking current, accurate, high-resolution maps. This hampers economic growth and presents risks to public safety. Resource management and economic development require a strong mapping foundation; emergency preparedness and readiness for disaster recovery depend on accurate location information.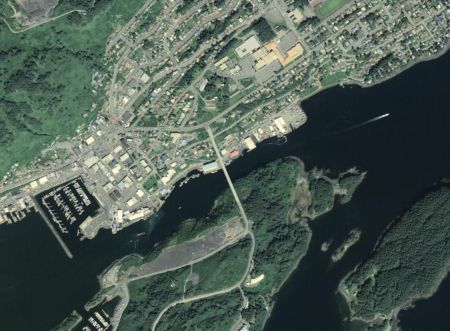 What makes Alaska Mapped and SDMI different and better?
There are two primary differentiating factors that separate Alaska Mapped and the SDMI from other mapping initiatives for Alaska:
The program's statewide, broad-scale focus— We gather and distribute small area and project data, but the SDMI program's focus is to seek statewide solutions. Municipalities, industrial sites, and large construction projects enjoy new, accurate imagery and elevation data provided by their business users. The SDMI program seeks to fill the gaps outside the relatively small areas served through well-funded business drivers. Activities such as exploration, recreation, wildlife management, and climate change research all require broad-scale, current data the SDMI is working to provide.
Open, public access— Alaska Mapped is committed to making data freely and easily available through open standards. Unlike commercial services in which the data displayed on screen or in mapping tools is very restricted in use, the Alaska Mapped and GINA web maps and web services can be displayed in virtually any mapping application and can be printed and downloaded. The full, raw data sets are also available for download by licensed users and, in many cases, by anyone. (For example, users cannot print or download satellite images displayed in Google Earth, Map Quest, Virtual Earth, etc; however, users can easily and legally do so using Alaska Mapped's online map viewers.
Successes
Alaska Mapped is now the premier distribution site for Alaska imagery and elevation data. Our list of contributors includes 17 agencies. The establishment of the Alaska Mapped web distribution system, its high level of participation by Alaska agencies and its large and rapidly-growing user base has been a resounding success of the SDMI program.
More than 350,000 square kilometers (84,000,000 acres) of high-resolution imagery and 75,000 sq-km of high resolution DEM (elevation) data is available through Alaska Mapped. These data, much of it contributed by federal sources, represents more than $10 million in Federal funds leveraged by the SDMI program. By broadly distributing the data on behalf of federal, state and local contributors, millions of dollars of value has been unlocked by increasing the data's use, broadening its impact and saving time and effort for geospatial professionals.
In addition to the high resolution data, Alaska Mapped has the best-performing, easiest-to-use web interface to lower resolution imagery and DEM data sets. For example, 15-meter Landsat data, scanned USGS topo maps (DRG), shaded relief images, the National Elevation Dataset (NED), and the ASTER G-DEM are all available with statewide coverage via online web maps, OGC web services, and KML files.
SDMI and GINA mapping and web services have thousands of users—and that number is growing. Over the past two years, usage has been on a steady upward trend with an average growth rate of 11% per month. More than four million map images have been delivered to users' screens.