SPOT5 Level 1A
The source data is licensed for use by the US public sector and academia at no additional cost. Others can purchase licenses to use the data at a reduced cost. When available, the orthomosaices will be publicly available to all US users via Open Geospatial Consortium web services. Please see the license file EULA for details. Contact us for details.
The first thing to note is: THIS IS NOT A MAP PRODUCT. Although geo-referenced products are included in the file package, they are just browse images for previewing the data. The scene has not been ortho-rectified or had any control applied. The scene has been rubber-sheeted on to the earth to provide a more useful browse product; significant errors in geo-location compared to an actual ortho-rectified, controlled map product are present in the browse imagery herein.
Please read this for details: README-201010.
Before you try to get the data, please read the download instructions.
The source scenes come in two pairs
B: panchromatic (single band 2.5 meter resolution)
J: multi-spectral (four 10 meter bands - red, green, near IR, shortwave IR)
The scene01/imagery.tif is the Level 1A product as comes from Spot Image.
Additional information about the sensor and imagery can be found here: http://www.spot.com/web/SICORP/445-sicorp-the-spot-satellites.php
Source data can be downloaded via AlaskaMapped's browse site. A shapefile of coverage is also available below.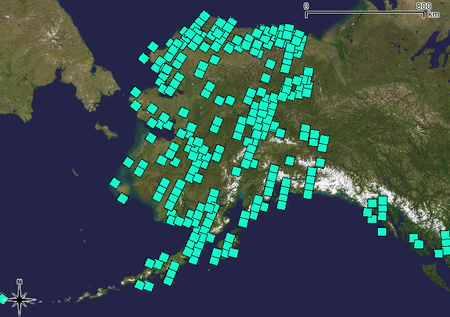 Map showing SPOT 5 source data accepted from 2009 and 2010 Alaska seasons.
The shapefile showing data footprints has the coverages, acquisition dates, scene identifier, and link to the download page on the browse site.